A Mixed Media Beetle Art Project You Can Do at Home!
Hug a bug Hug a bug, but don't hug a bee!
It might sting your nose, your hand or your knee!
Buzzzzzziger Danziger
Buzzzzzziger Danziger
Big beetles with wings!
Sculptures made of wire, colored glass and things!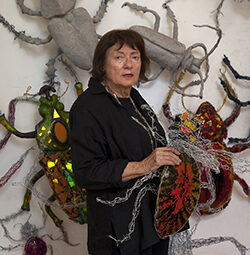 Joan Danziger is an American sculptor who lives in Washington, DC. She creates fantastic sculptures out of many different mediums, such as wire, glass, celluclay, wood and resin. This fun art project was inspired by Danziger's incredible mixed media Beetle sculptures, which were developed from her interest in the mythology of the Ancient Egyptian scarab beetle.
You can create your own Danziger beetle with whatever materials you have at home! We made ours in 1st grade with mirror board, corrugated cardboard, white card stock, colored acetate, colored sharpie markers, chenille stems, paper, yarn, a variety of beads, buttons, small found objects, tacky glue, staples and hot glue.
Step 1– BODY- Cut off the corners of an 8 ½" X 11" piece of mirror board so that it forms an oval-ish shape with a slight point at one end for the insect's main body (abstract combo of a thorax and abdomen to be anatomically correct. Thanks Mr. Hammit!). Cut a small slit at the top edge and repeat all the way around the oval, making slits about 1" apart. (I have the kids measure a "2 finger" width.)
Step 2– BODY WEAVING- Tape the end of a long piece of yarn (two arms wide) to the back of the board and pull it through one of the slits to the front. Go across the board to the opposite side and into another slit. Go back to the front through another slit immediately to the left or right and go across the board again to another slit. REPEAT this RANDOM weaving until the end of the yarn. Be sure to leave enough string to finish on the back side and tape the end. REPEAT with 4 or 5 more pieces of yarn. INSIDER TIP- I use this analogy- You come out of the "house" (slit) and go across the street into another "house" (slit) then go to the "NEIGHBOR'S house NEXT DOOR" by going through their "BACKYARD." (not across the back of the board!) Come out of your neighbor's front door and go back across the street to a different "House's" front door…
Step 3– HEAD: Create a semi-circle for the beetle's head out of corrugated cardboard and staple or glue onto top of bug body oval.
Step 4– EYES & MOUTH: Use colored Sharpies to draw 1 – 3 funky Bug eyes and a mouth. Cut them out and tacky glue them onto the head.
Step 5– WINGS: Use sharpie markers to create a pattern with a variety of lines and shapes on one 8 ½" x 11" piece of acetate (Line pattern should follow the LONG edge of paper, or landscape fashion) Cut in half to make two 5 ½" X 8 ½" rectangles. Cut the corners off to create an oval-ish wing shape and staple onto the body.
Step 6– LEGS & ANTENNAE: Hot Glue 6 Chenille stems to button of body and two short chenille stems to head. You can also glue on a stinger or stingers or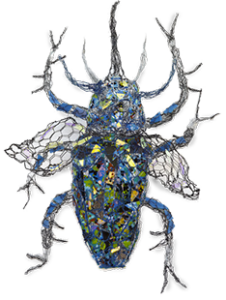 "antlers" onto the head like the Rhinoceros beetle.
Step 7– Use tacky glue or hot glue to add beads, buttons or found objects BETWEEN the strings on the beetle's body. You may also add beads to the antennae.
Step 8– Now buzzzz around with your Danziger Beetle saying the art chant above! Have fun and Be Creative with your mind and your hands!
Step 9 & 10– Click here to view our classes and SIGN UP for loads more fun at Hands Create Fine Arts Studio!
Share This Story!
[fusion_widget_area name="avada-blog-sidebar" title_size="18px" title_color="var(–awb-color7)" hue="" saturation="" lightness="" alpha="" background_color="var(–awb-custom_color_3)" padding_top="" padding_right="20px" padding_bottom="10px" padding_left="20px" hide_on_mobile="small-visibility,medium-visibility,large-visibility" class="" id="" /]
Add your email address below to receive updates about our classes & schedule.